Hello friends!
How is it already Monday?! This last week has been an absolute whirlwind! I crammed in a ton of work, a couple days in Chicago, and a couple days in Salt Lake City. I'll be doing a separate recap of each, but in the mean time, this is what I wore for the first day of a family reunion. My husband is the youngest of 9, so family reunions on his side are a little crazy, like 47 people in one giant house-crazy, but super fun.
Ecco Soft sneakers c/o [exact] //
Dalmatian print midi skirt [
exact
on sale
] //
Gap modal tee [
exact
] //
Kut from the Kloth denim jacket [
exact
]
I opted to keep my outfit pretty simple, so pieces can mix and match well, and breezy, because it is warm! Comfy shoes are obviously a must too, because there are tons of kids, open space, and a giant playground, so uh excuse me while I go hang out with them 😝
OKAY, also I saw
this skirt
shopping online at ASOS a couple weeks ago and absolutely loved it, so when it went on sale over the 4th of July weekend, I scooped it up. When it arrived, I was trying it on and the husband chimes in giggling and asks if it has "baby cow spots". Argh. I corrected him saying it was Dalmatian, but now I chuckle and think baby cow whenever I look down.
Thanks husband.
Finally, since this post has just turned into an assortment of random thoughts... Somehow my memory card got corrupted, so I was unable to use my DSLR to shoot this outfit (SO relieved it was just the memory card though!) but hopefully I'll fix it soon, because it is absolutely gorgeous here and I'd love to take better pictures later in the week.
Outfit Details
Ecco Soft sneakers c/o [exact]
Dalmatian print midi skirt [exact on sale]
Gap modal tee [exact]
Kut from the Kloth denim jacket [exact]

And since it's Monday that means
Linkup Day!
(yes, totally a proper noun)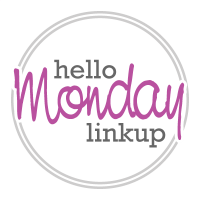 Hosted by:
Whether it's fashion, lifestyle, fitness, food, or DIY, share your latest musings with the Hello Monday Linkup! We just ask that you link back to the hosts within your exact blog post and throw a follow our way on Instagram or Bloglovin'. Thanks for linking up!