Greetings from Cleveland!
This month has been insane, in the best way possible. I wore this to fly home from Atlanta last week, and barely unpacked in time to head to Cleveland for a long weekend. We crammed in so much- touring downtown, the Science Center, Cedar Point, the West Side Market, and lots of delicious food.
Also, when I bought this shirt, I swear the website said it was black and white, but in these pictures the stripes totally look navy... so are they black or navy?! Ha. Not sure I will ever know.
Outfit details
Banana Republic striped tee
And since it's Monday that means
Linkup Day!
(yes, totally a proper noun)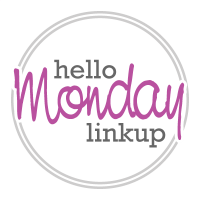 Hosted by:
Whether it's fashion, lifestyle, fitness, food, or DIY, share your latest musings with the Hello Monday Linkup! We just ask that you link back to the hosts within your exact blog post and throw a follow our way on Instagram or Bloglovin'. Thanks for linking up!