Happy almost Halloween!
It suddenly got really chilly here, which has me breaking out all my cozy layers and fleece tights. I wore this to work last week, and couldn't wait to shoot it for the blog. I get excited about basically all clothes, but sometimes an outfit has a little something that really makes me love it and want to wear it over and over. That's this outfit.
Plaid and tie-neck blouses are two of my favorite things, so when I saw them embodied in just one top, I knew I had to have it. It looks equally cute with jeans and a cardigan, and is a really soft superlight flannel. I'm trying to convince myself I don't also need the navy, specially since it's on sale...
// Plaid tie-neck blouse [exact, love this too] // Coated tweed skirt [exact, I'm wearing a 'Tall' for length] // Rebecca Minkoff tote [similar] // Gucci Brixton loafers [exact]
Also, funny note about these pictures... I'm actually wearing two pairs of tights. No, not because it was cold. We were shooting a few outfits at a park near our place, and I was changing in the car. It seemed much easier to just put these black tights over the rust ones from the earlier look. As soon as I managed that feat of flexibility in my car, husband walks over to tell me the bathrooms are open. Ha! At that point I was committed to just wearing two pairs of tights though...
What are you being for Halloween? Big plans?
Outfit Details
Coated tweed skirt [
exact
, I'm wearing a 'Tall' for length]
Gucci Brixton loafers [
exact
]
And since it's Monday that means
Linkup Day!
(yes, totally a proper noun)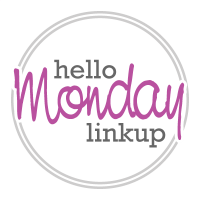 Whether it's fashion, lifestyle, fitness, food, or DIY, share your latest musings with the Hello Monday Linkup! We just ask that you link back to the hosts within your exact blog post and throw a follow our way on Instagram or Bloglovin'. Thanks for linking up!