Hello friends! Happy 2018!
I hope you all had a wonderful holiday. I took a welcome break from work and blogging and spent a lot of time relaxing, with family, and just generally getting my life in order. I did a lot of organization projects, and it was oddly satisfying. My kitchen and bathroom are now spic and span (no more unused products or obscure expired condiments🙈) I still need to finish up my closet room, which has been a serious endeavor.
Settling in and spending hours pulling out every item of clothing I own was a kind of shameful experience. Good grief do I have SO many clothes! I mean, that wasn't a revelation, but actually going through ALL of it was still a little jarring. Since then, I've literally unsubscribed from all the marketing emails I used to get and set myself a monthly budget. I am one week in, and succeeding so far. Ha! Although for some reason, I think it might stick this time. I'll keep you guys in the loop.
Outfit One Details
Outfit Two Details
Pick of the Week
How cute is this top?! I added it to my 'saved for later' when it was full price at $45, so at $22 I'm super tempted to pull the trigger. I love that it could work with skinny trousers for work, or high-waisted jeans and sneakers for everyday.
And since it's Monday that means
Linkup Day!
(yes, totally a proper noun)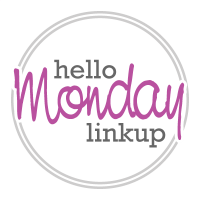 Whether it's fashion, lifestyle, fitness, food, or DIY, share your latest musings with the Hello Monday Linkup! We just ask that you link back to the hosts within your exact blog post and throw a follow our way on Instagram or Bloglovin'. Thanks for linking up!