Scalloped shirt dress [exact on sale! similar shirt] //
J.Crew navy leather crossbody [
similar
] //
Red suede ankle wrap sandals [
exact
] //
J.Crew crystal cluster earrings [
similar
] //
Bite Beauty lipstick in 'Sweet Cream' [
exact
] //
$12 sunnies [
exact]
The other day at work, I grabbed Panera for lunch (You guys, their mobile app is my DOWNFALL- order your food on your phone, and pick it up minutes later without even having to talk to a real human) and I actually stuck around and ate outside because it was a beautiful day and I didn't have to hurry back to meetings. There's a bunch of other restaurants and businesses around the Panera, which means great people watching. During which, I saw the chicest girl walk by wearing an adorable scalloped light blue shirt dress and nude pumps. She made me want that dress.
Fast forward a few days and I was at the mall very hastily seeking a black pencil skirt. Banana is my go-to for remotely professional clothes, so I checked there first and not only did I find the required
black pencil skirt
, but I found THE DRESS. I had forgotten about it and never searched it out online, and there it was! Meant to be 😉 and it was on sale. Obviously, it went home with me.
While I did love the nude pumps-dress combo I spied on a stylish stranger earlier, I opted to spice it up a little with these red shoes. Not only is it patriotic, but feels a little less preppy/twee.
Scalloped edge light blue shirt dress
This shirt
dress is a super crisp shirting material and has the cutest a-line cut. It also has pockets! It's not see-through at all. I have plans to wear it with cognac wedges and a matching skinny leather belt, and transition it to fall with a mustard cardigan. The fabric does wrinkle fairly easily, but I steam most of my dressed before each wear anyways, so it doesn't bother me.
As far as sizing, I went down one size. This scalloped shirt dress also comes in
white
and
pinstripe
.
Red ankle wrap suede block heel sandals
I originally ordered
these shoes
in baby pink to go with a dress, and fell in love with the style. A different pair of shoes won to match the dress, but since they come in
a half dozen other colors
, I decided I might need them in another shade. I was torn between the orange-red hue and the mustard yellow; both would add such a great pop of color to nearly any outfit. I wear my red flats a ton throughout the Fall, so ultimately the red won. The suede ankle wraps stay in place really well (no adjusting required for a crazy busy, 10k step, 10 hour workday) and they're quite comfortable.
As far as sizing, I went with my usual size 8 and they fit perfectly.
Outfit Details
Scalloped shirt dress [exact on sale! similar shirt]
J.Crew navy leather crossbody [similar]
Red suede ankle wrap sandals [exact]
J.Crew crystal cluster earrings [similar]
Bite Beauty lipstick in 'Sweet Cream' [exact]
$12 sunnies [exact]
PS! Those cheapie destructed jeans I mentioned ordering last week are awesome! They run a little generous, so I'd recommend going down at least one size. I went down one size, and they've got a tiny space, but are satisfactory, and super comfortable.
And since it's Monday that means
Linkup Day!
(yes, totally a proper noun)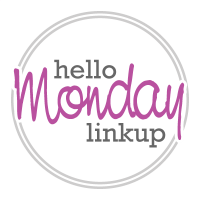 Hosted by:
Whether it's fashion, lifestyle, fitness, food, or DIY, share your latest musings with the Hello Monday Linkup! We just ask that you link back to the hosts within your exact blog post and throw a follow our way on Instagram or Bloglovin'. Thanks for linking up!