Taking up climbing | A couple weeks ago I stumbled upon a Groupon for an introduction to rock climbing class for a crazy good deal. I've always wanted to learn, so I figured why not?! Well, I got totally hooked. Just last week I took the plunge and invested in my own gear, which consists of a harness, shoes, carabiner, and belay device... of course I'd like any activity that requires new shoes ;)
Loving this new bronzer
| Being pretty fair, I struggle to find a good bronzer that's not too dark or orange,
and
I don't like shimmer in my bronzer. After a little research, and lots of Sephora swatching, I settled on this
Tarte bronzer
in 'Park Avenue Princess'. I've been using it about a month now and I adore it! It blends and builds really nicely, and it still looks brand new.
Excited to wear these sandals
| At work I find that sitting on conference calls = buying shoes online. Whoops. I absolutely love the shade of red of these sandals- the perfect orange red for summer. They're really comfortable, and I think they'll be equally cute with cropped jeans or skirts and dresses.
Mastering homemade pizza
| The husband ordered
this book
on Amazon a couple weeks ago, and we've been reading through it together. It provides so much insight on all different types of pizza, precise recipes, and details on exact brands of tools and ingredients to use. The author waxes a little
too
poetic, sometimes verging on pretentious, but overall it's a super informative read. We just tracked down the necessary flour for Neapolitan pizza, so we'll be making our first pizza in a few days.
Shopping for destructed skinny jeans
| Since a few
Whole30s
and starting up running again, all my go-to destructed jeans are a couple sizes big, and I miss having a good pair of truly skinny, destructed jeans. I've acquired a few too many shoes this month though, so I have
a very budget-friendly option
on their way to me now. Historically, my luck with Old Navy's jeans is very hit and miss- I'll report back if they're keepers!
Buying workout clothes
| I've been squeezing in a run, climbing session, or BBG workout nearly every day, which I quickly realized makes for a LOT of laundry. Because I hate laundry and love shopping, the logical solution was to pickup a few more sports bras, running shorts, and tanks. I love
Old Navy
, Gap, and
TJ Maxx
's selection and pricepoint. I document my usually mismatched workout outfits on Snap (roberts_jenna) on the regular.
And since it's Monday that means
Linkup Day!
(yes, totally a proper noun)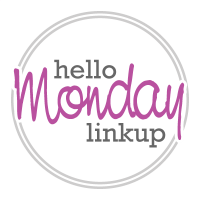 Hosted by:
Whether it's fashion, lifestyle, fitness, food, or DIY, share your latest musings with the Hello Monday Linkup! We just ask that you link back to the hosts within your exact blog post and throw a follow our way on Instagram or Bloglovin'. Thanks for linking up!