Good morning!
I'm so sorry for the delay in today's linkup + post. I logged on to get everything drafted, and discovered half my blog had been eaten by Photobucket, because they decided that I needed to pay $400 to use their photo hosting for my blog, AND not mention it before-hand. Thanks Photobucket.
Anyhow! That's now been resolved (and I got to recreate about half my graphics, yay!) so on to the usual programming.
I've been wanting to draft this post for awhile, but I haven't gotten around to snapping a workout outfit, so this iPhone snap taken the second time I ever climbed will suffice. (Wearing my current
favorite workout tank
that's under $20!)
Quality socks
| particularly with distance running, socks make a really big difference! I used to prefer thicker ones with cushion and arch support, but I recently tried a pair of
Smartwool's 'Secret Sleuth' socks
, and I love them! They wick moisture well, keep anything from rubbing, all while being virtually unnoticeable. This particular style is also really great with TOMs and other low profile sneakers that usually show socks.
A killer playlist | I've been refining my running playlist (thanks for the Snapchat recommendations!) and it makes such a big difference! I like a good mix of rock, pop, rap, and alternative; the only prerequisite is a great beat. What are your favorite workout jams?
Apple watch + Under Armor Record app | When I got my Apple watch for my birthday last year, my main use for it was managing all my meetings everyday, and using it for Apply pay. I liked the fitness tracking aspect, but I wasn't very consistent about using it (or hitting my goals😳). Then I bugged Caryl about what she used to track all her pilates workouts, and she shared the Under Armor Record app with me. It has SO many more activity choices than just the standard Apple activity app, and syncs effortlessly with it. The combination of the two keeps me quite motivated to workout and hit my daily activity goals.
Nike Free RNs
| I am a very loyal Nike running shoe buyer. I've tried Asics, Brooks, Adidas, Rykas, and New Balance over the years, and I always return to Nike. Most recently, I read a bunch of reviews and settled on the
Nike Free RNs
, in this shade of blue because they were on sale on Amazon. I've been wearing them about 2 months, averaging about 15-20 miles a week, and I'm really pleased with them. I find the support, cushion, and lightweight body all really great. I was also pleased to find they have removable inserts, because I have custom orthotics I wear in them. Overall, I've been really pleased and will probably buy the style again.
MRM island fusion BCAAs
| Especially on distance day, I work to boost my protein intake. Research has taught me that in order to recover most efficiently, you can also add a few more supplements to the mix. BCAAs are my favorite- it stands for branch chain amino acids, and are a combination of amino acids that help boost protein synthesis- which helps your muscles recover more quickly. I can tell a difference the day after a tough workout whether or not I took them. I originally used an unflavored BCAA, but man it tasted like crap; very bitter and the flavor just couldn't be masked. I finally found an all-natural BCAA (I avoid sucralose, splenda, aspartame, and all the other artificial sweeteners, which is
really
difficult in fitness supplements) and it's overall pretty good!
And since it's Monday that means
Linkup Day!
(yes, totally a proper noun)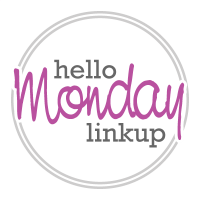 Hosted by:
Whether it's fashion, lifestyle, fitness, food, or DIY, share your latest musings with the Hello Monday Linkup! We just ask that you link back to the hosts within your exact blog post and throw a follow our way on Instagram or Bloglovin'. Thanks for linking up!