Wanna know something crazy? Since I started my new job the end of August, this was the first week I was in the office 5 days. First I had backpacking already planed, then it was Labor Day, then I was in Atlanta for work, then took off a Friday for Cleveland, next an off-site training, and finally by my 6th week at my new gig I was in the office all five days. Good news, even with 5 consecutive days, I still like my job ;)
Monday
This was the day following my half-marathon, so I picked my most comfortable business casual shoes and built an outfit around them. Yup, definitely still took the elevator and walked funny all day- so sore!
Tuesday
Still sore- but I had the courage to wear flats instead of basically-sneakers.
Wednesday
This is one of those outfits that once photographed, I wasn't so sure about. I'm thinking the tweed and leopard was a little excessive- but hey I liked my shoes!
Thursday
You guys,
these pants
. I got them 55% off and seriously would've paid full price. They're insanely comfortable, but dress up great. They also maintain their shape wonderfully. Vince can do no wrong as far as I'm concerned. It's a dangerous conviction to have...
Friday
Wearing jeans and sneakers brings me a whole new level of enthusiasm now that I can only do it once a weekday. These shoes make me excited no matter what day it is...
And since it's Monday that means
Linkup Day!
(yes, totally a proper noun)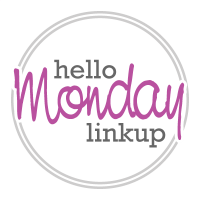 Hosted by:
Whether it's fashion, lifestyle, fitness, food, or DIY, share your latest musings with the Hello Monday Linkup! We just ask that you link back to the hosts within your exact blog post and throw a follow our way on Instagram or Bloglovin'. Thanks for linking up!
ww.bloglovin.com/blog/9909265" imageanchor="1" style="margin-left: 1em; margin-right: 1em;">