Howdy friends!
I just got back from a few days in Arizona (where these photos were taken) for husband's sister's wedding (yayyy!) and dang do I miss the weather already! Although it did get a little chilly at night, so it was rather unfortunate when I arrived Tuesday night and realized I somehow didn't pack jeans 😒
So Wednesday, when we were out running a few last minute errands for the bride, I also tracked down a reasonably priced pair of jeans to wear the rest of the week. I didn't want to buy something I basically already had, so when I found
these super soft, lightwash destroyed skinnies for under $50
, I was stoked. They run true to size, if not a tiny big, and are super comfortable and lightweight. Perfect for Summer.
Also perfect for Summer-
these sandals
. I love LOVE and wear mine so often. They're as comfortable as traditional Birkenstocks, but the more delicate, shiny straps look so much more feminine.
Spiced up one of my favorite Vince crossbody bags from last year with a
fun, affordable scarf
.
Outfit Details
And since it's Monday that means
Linkup Day!
(yes, totally a proper noun)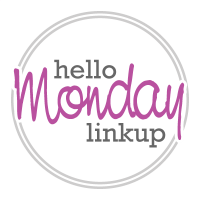 Whether it's fashion, lifestyle, fitness, food, or DIY, share your latest musings with the Hello Monday Linkup! We just ask that you link back to the hosts within your exact blog post and throw a follow our way on Instagram or Bloglovin'. Thanks for linking up!